Exhibition: Reclaiming Space
Reclaiming Space is about a familial ties to a physical space and memory. 26 Aug - 7 Oct 2023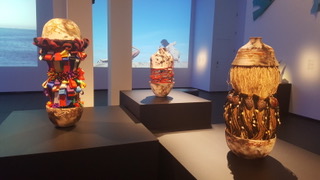 'intertidal', 2018, mixed media various sizes
During the pandemic Seinileva Huakau and her father Tuifua Huakau started experimenting with material to maintain and clear their studios in two separate places; one in rural Queensland the other in greater western Sydney. Over the pandemic period both emerging artists honed their skills one redefining a traditional practice the other to finding new materials to contextualise the physical space she is now in.
Reclaiming Space hopes to exhibit the evolution in their art practices further as they continue to discover new spaces and experiment with materials and techniques familiar to their respective areas Using plastics from packaging and irrigation and vegetation they both have created pieces from gathered materials necessity to the expense and scarcity of other materials.
It has led to the weaving body of work about space, materiality, practice, and identity.
When
-
Cost
Free
Bookings
Not Required
Contact
Phone: 4976 6766
Email: gragm@gladstone.qld.gov.au
Location
Gladstone Regional Art Gallery & Museum, Cnr of Goondoon & Bramston Sts
Print this page