Exhibition: Our Priceless Past 2023
Immerse yourself in the stories of seven local Special Seniors. Selected students from Calliope State High interviewed the Seniors and prepared their stories to celebrate Seniors Month in Queenslan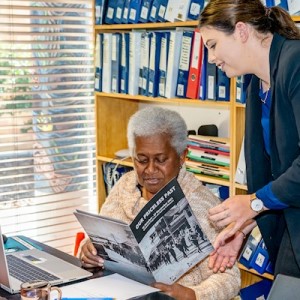 Aunty Leeann Sirriss being interviewed for the 'Our Priceless Past 2022' exhibition.
Nominated Special Seniors are over 70 years of age and have lived in the area for over 30 years.
Selected students from a local school will interview the Seniors and prepared their stories to celebrate Seniors Month in Queensland.
---
When
16 September - 11 November 2023
Cost
Free
Bookings
Not Required
Contact
Phone: 4976 6766
Email: gragm@gladstone.qld.gov.au
Location
Gladstone Regional Art Gallery & Museum, Cnr of Goondoon & Bramston Sts
Print this page