Exhibition: Our Priceless Past
Featuring the stories of local Special Seniors, prepared and presented by selected Year 8 students of Rosedale State School, to celebrate Seniors Month in Queensland, 1-31 October 2022. 10 Sep - 29 Oct
Nominated Special Seniors are over 70 years of age and have lived in the area for more than 30 years.
2022 nominations can be sent to the Gallery & Museum, by phoning 4976 6766 or emailing gragm@gladstone.qld.gov.au.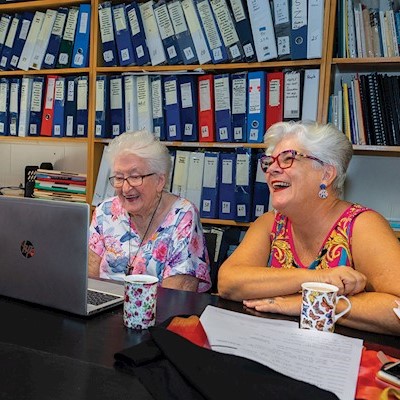 Merril Ruback and Adele Hughes being interviewed for the '2022 Our Priceless Past' exhibition.
---
When
10 September - 29 October 2022
Cost
Free
Bookings
Not Required
Contact
Phone: 4976 6766
Email: gragm@gladstone.qld.gov.au
Location
Gladstone Regional Art Gallery & Museum, Cnr of Goondoon & Bramston Sts
Print this page