Epilepsy Qld is coming to Gladstone
Book in now for an epilepsy and seizure first aid training session or come share a cuppa and connect with others in a relaxed, supportive environment. Training Session 9am-11am | Meet up 2.30pm-4.30pm
Epilepsy Queensland is coming to Gladstone. Our experienced Epilepsy Educator, Jenny, will be delivering an epilepsy training session 'Understanding & Managing Epilepsy & the Administration of Midazolam.'

This event is open to all people living with, or impacted by epilepsy, including parents, caregivers, employers, educators, support providers, support workers and allied health professionals.

A great opportunity for increased understanding and management of epilepsy and building confidence in delivering seizure first aid and emergency medication.

When: Wednesday 22 March
9:00 am - 11:00 am

Where: Gladstone Library
39 Goondoon St
Gladstone

Cost: $110 per person

RSVP essential at the event link.

For further information, please call our office 1300 852 853 or email livingwell@epilepsyqueensland.com.au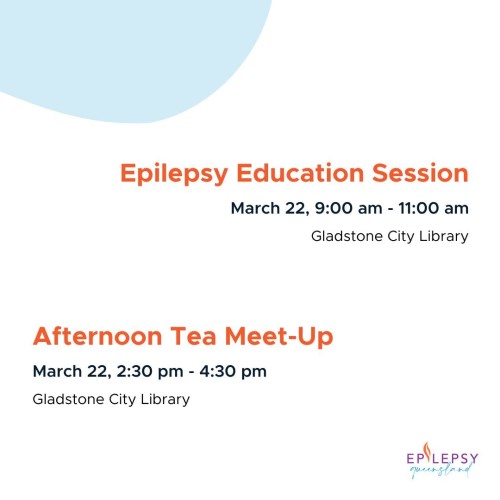 Epilepsy Educator, Jenny, warmly welcomes people impacted by epilepsy to come share a cuppa and connect with others in a relaxed, supportive environment.

When: Wednesday 22 March
2:30 pm - 4:30 pm

Where: Gladstone Library
39 Goondoon St
Gladstone

This is a FREE event,
RSVP required. Please email livingwell@epilepsyqueensland.com.au or call the Epilepsy Queensland office on 1300 852 853.
More information

We look forward to connecting with you on our upcoming visit to Gladstone.
Print this page