About the Gardens
One of regional Australia's best
Contact details and opening hours
Sculptures and Art
Orchid House
Japanese Tea House
Lake Tondoon
Flora
Fauna
Ten Year Strategic Plan
One of regional Australia's best
Gladstone Tondoon Botanic Gardens is one of Australia's top ten regional gardens (Australian Geographic, January 2018) and are just a short drive from Gladstone's CBD. Their tropical, sub-tropical and dry rainforest plants come from the Port Curtis, South East Queensland and Far North Queensland regions.
The gardens opened in 1988 and are not your typical straight edges and manicured lawns. They're a tranquil balance of natural gardens overlooking Lake Tondoon on a site at the base of Mount Biondello.
More than 200,000 people come through the gates every year to enjoy walks, picnics or special events.
Entry to the gardens is free.
Make sure you wear comfortable walking shoes, a hat and don't forget sunscreen and insect repellent.
All plants and Garden features are protected, so please do not disturb or move. Domestic animals, including dogs, are not allowed on site or in the surrounding Mount Biondello Forest reserve.
Map of Tondoon Botanic Gardens
Contact details and opening hours
Gladstone Tondoon Botanic Gardens opening hours:
7am - 6pm (1 October - 31 March)
7am - 5.30pm (1 April - 30 September)
Gladstone Tondoon Botanic Gardens administration hours:
7am - 4pm (Monday to Friday)
Phone: (07) 4971 4444
Fax: (07) 4975 8500
Email: info@gladstone.qld.gov.au
Facebook: Tondoon Botanic Gardens
Instagram: tondoonbotanicgardens
Address: PO Box 29, Gladstone Qld 4680
Gladstone Tondoon Botanic Gardens are closed on Good Friday and Christmas Day.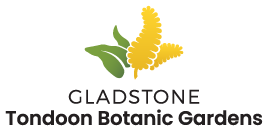 The Gladstone Tondoon Botanic Gardens logo has been redesigned as part of Council brand guidelines process. The flower graphic in the logo is Gladstone's floral emblem, the Crown of Gold (Barklya Syringifolia). The Crown of Gold (Barklya Syringifolia), is characterised by its heart-shaped leaves and bright yellow fingers of flowers. The tree can be found throughout the Tondoon Botanic Gardens and the region. We encourage you to come and see the Crown of Gold for yourself and visit Tondoon Botanic Gardens, bring your friends and family, have a picnic and explore the Gardens.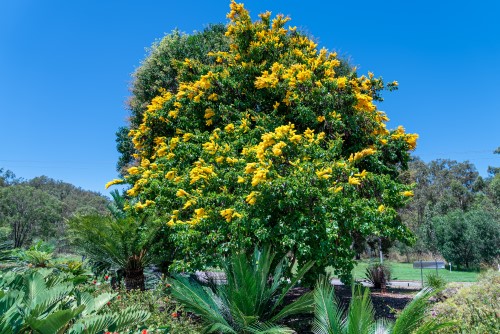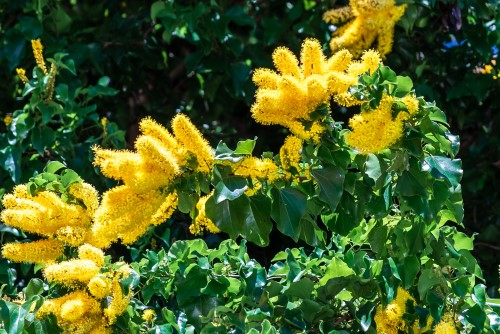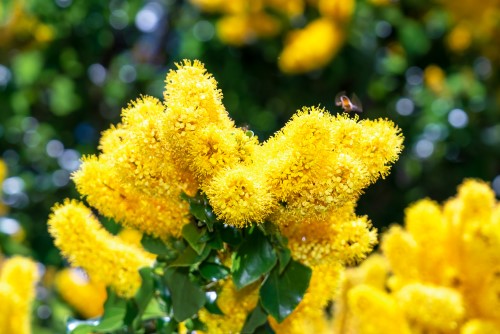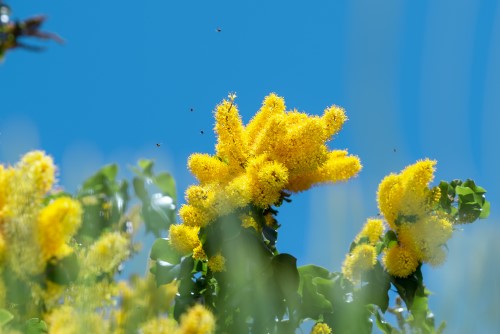 Sculptures and Art
The Gardens are home to some great art and sculptures, such as:
Gladstone Centenarians
Aboriginal sea life
Vitea Mortae sculpture
Also, keep an eye out for the incredible Aboriginal painting in the orientation shelter's ceiling.
Orchid House
An Orchid House features some of the Port Curtis region's own native orchid species. Other orchids from different regions will be added to the collection in future years.
The Orchid House is open 9am-4pm daily.
Japanese Tea House
Also known as "The Garden of Stillness and Movement", the importance of nature in Japanese culture is showcased in this traditional ornamental landscaped garden and tea house. The structure was built in 2000 by Shiggeru Shimatzu, using traditional Japanese methods.
Lake Tondoon
Did you know - Lake Tondoon once formed part of the Tondoon Dam, which supplied Gladstone's water from 1916-1945. The old pump station and intake tower can still be seen below the dam wall.
Arboretum
This collection of trees is near the front of the gardens. Their placement looks like they were planted by hand, but the blue gum seeds were washed down from the lake when the dam wall was breached in 1968.
Flora
Discover more than 3000 plant species in dry and wet rainforest settings. There's also a collection of endangered species.
There are three categories of plants:
Taxonomic groupings in which plant genera are grouped together
Geographic groupings containing plants from the same area
Ecological groupings, where plants which occur in similar ecological situations are grouped together.
Fauna
Wildlife is everywhere throughout the Gardens so keep an eye out! Bring your binoculars to study the range of birds and abundant insect life. Make sure you don't miss the Krefft's Freshwater Turtle in Tondoon Lake.
Tondoon Botanic Gardens Ten Year Strategic Plan
This strategic plan has been developed to guide the Gardens' direction over the next 10 years. It encourages further research and conservation, education, recreational use and development. Council is committed to maintaining and improving the Gardens to a standard valued by the community and visitors and recognised throughout Australia.

The strategy has been informed through previous reports, the direction of botanic gardens elsewhere and consultation with stakeholders including our valued staff and volunteers. It will be implemented through a business plan and funded by Council's budget.
Gladstone Regional Council adopted the 10 year strategic plan in December 2015.
10 Year Strategic Plan 10 Year Strategic Plan Brochure
Print this page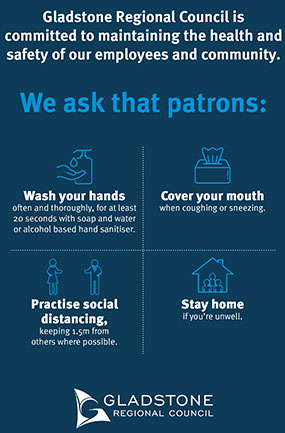 We ask that visitors do not attend our facilities if you; have returned from overseas or a COVID-19 hotspot in the last 14 days, have cold or flu like symptoms, have been in contact with a confirmed case of COVID-19 in the last 14 days.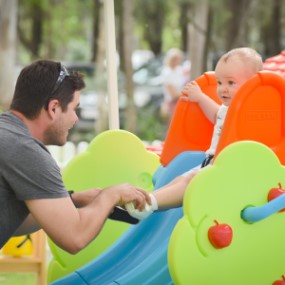 Bring your baby or toddlers for a free morning out at Tondoon Tiny Tots on the 1st Wednesday of every month. Not held in school holidays.
More information
Return to top
Gladstone Regional Council
Connect, Innovate, Diversify
© 2023 Gladstone Regional Council
All content © Gladstone Regional Council. All Rights Reserved.
Back to the top