Gladstone String Workshop Gala Concert 2019
This Gala Concert is a showcase of the many hours of rehearsal undertaken by Gladstone Area state primary and high school students at our String Sessions' Workshops.
Students at all levels, including those who have been learning six months to those who have been learning up to ten years, will perform varying styles of music. We trust that you will enjoy the fruits of their labour, with our guest conductor Keith Sharp.
FREE - bookings essential - Max of 5 tickets per booking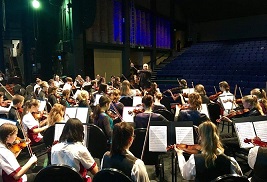 ---
See Also